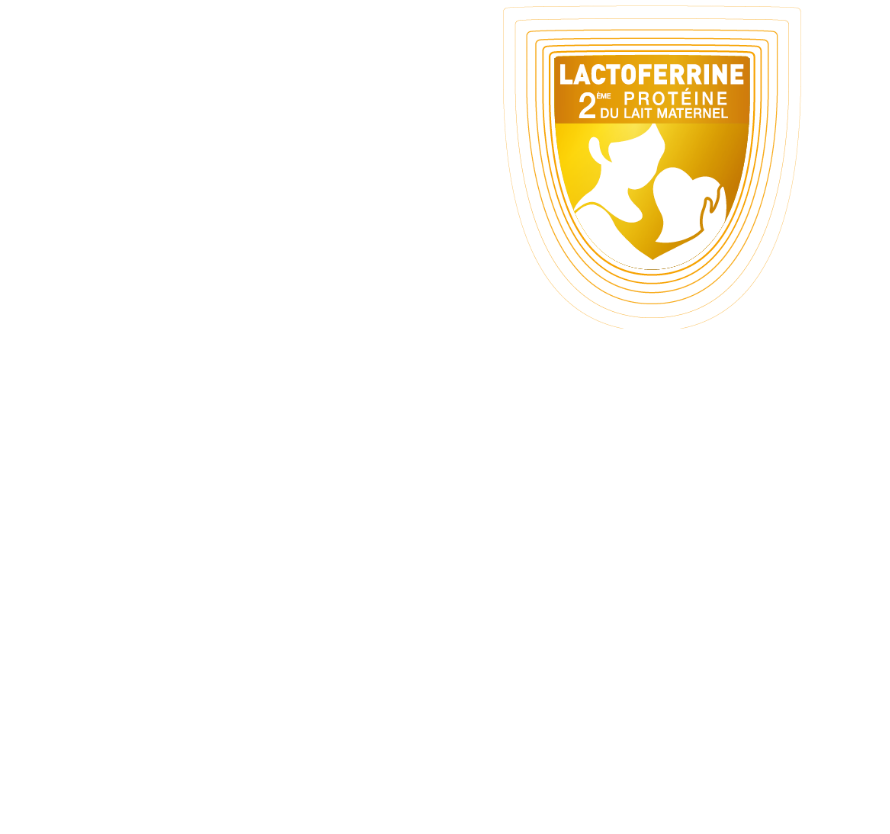 Enriched with Lactoferrin
EXCLUSIVE TO MODILAC IN FRANCE
Lactoferrin **
Omega 3 (DHA) *
Vitamins A,C,D *
Palm oil free
Certified organic farming

100% French milk
*In accordance with regulations
**of bovine origin
Specificities of our formulas

For over 35 years, we have been designing infant formulas at the forefront of nutritional research to always be as close as possible to breast milk. In addition to a progressively diversified diet, Modilac Bio Lf+2 meets the specific nutritional needs* of infants aged from 6 to 12 months.

 

Lactoferrin is a protein naturally present in large quantities in breast milk. Thanks to cutting-edge expertise, we have been able to extract it from cow's milk of French origin, while retaining its original properties. This know-how has enabled us to develop the unique formula of Modilac Bio Lf+2 milk, to always be as close as possible to breast milk.

 

DHA*, an essential fatty acid from the Omega 3 family.

 

 Vitamins A, C and D* which contribute to the normal functioning of the immune system.

Iron* to contribute to normal cognitive development

 

 

Certified organic farming, which guarantees rigorous traceability of organic ingredients throughout the chain, so that your child can benefit from the advantages of environmentally friendly farming.

 

 

*In accordance with regulations
Our commitments

Modilac Bio Lf+2 is:

Made with good milk from Normandy

We work with 437 farms from which our milk is collected every 48 hours within a maximum radius of 200 km. Our partner farmers have signed and respect the good farming practices charter which puts animal welfare at the heart of their business.

 

Eco-designed

100% of the materials used in our packs are recyclable.

After removing paper labels from our packs, in 2022 we reduced the size of our boxes, without changing the quantity, which represents a saving of 20 tonnes of packaging materials per year. Less packaging but still as many bottles.

 
How to prepare the bottle ?

Carefully clean and sterilise the bottle, cap and teat. Pour the required amount of water into the bottle. Use bottled water with a low mineral content or boiled and cooled tap water. To make up the formula, the water must be lukewarm (around 40-45°C) before the powder is added.

Fill the measuring scoop supplied in the tin with powder, then level the scoop on the edge of the tin specially designed for this purpose.

Add the corresponding number of level scoopfuls of powder to the water, respecting the following proportion: 1 scoopful in 30 ml of water.

Put the cap on the bottle and to help the formula dissolve roll the bottle between your hands and then shake vigorously. Before giving baby the bottle, check the temperature of the formula by pouring a few drops onto your wrist.
Our ingredients

Organic skimmed milk, organic demineralized whey proteins (milk), organic vegetable oils (high oleic sunflower oil, rapeseed oil, sunflower oil), organic maltodextrins, organic lactose, fish oil, emulsifier (organic sunflower lecithin), vitamin C, calcium chloride, calcium carbonate, calcium phosphate, calcium hydroxide, potassium chloride, magnesium chloride, ferrous (II) sulfate, choline bitartrate, inositol, zinc sulfate, potassium iodide, vitamin E, antioxidant (tocopherols-rich extract), L-tryptophan, nicotinamide, L-carnitine, sodium selenite, calcium pantothenate, cupric sulfate, potassium phosphate, magnesium oxide, vitamin B6, thiamin, vitamin A, riboflavin, manganese sulfate, folic acid, vitamin K, vitamin D, biotin, vitamin B12.
Detailed nutritional values of

Modilac Bio Lf⁺2

Average analysis

Unit

Per 100g

Per 100ml

-- ENERGY --

kcal/kJ

496/2078

64/267

Linoleic acid

mg

3460

446

α-linolenic acid

mg

360

46

-- CARBOHYDRATES --

g

60,1

7,8

Fructo-oligosaccharides (FOS)

g

0,1

0,01

Galactooligosaccharides (GOS)

g

1,5

0,19

Vitamin A (RE)

µg

450

58,1

Pantothenic acid

mg

3,5

0,45

Folates (EFA)

µg

105

13,5

Vitamine E (TE)

mg

10

1,29