The benefits of breast milk for your baby
Breast milk: the right balance for babies
For mothers who can, breastfeeding is still the best choice for their baby. Breast milk contains water and a mixture of nutrients: fats, carbohydrates, proteins, vitamins, mineral salts, trace elements, etc. All these ingredients contribute to baby's normal growth and healthy development. Its composition evolves over time, and also varies depending on the mother's own diet. For example, the taste of milk changes depending on what mum has eaten. So, in addition to being a special bonding moment with mum, breastfeeding helps stimulate babies' taste buds, getting them used to a diversity of flavours.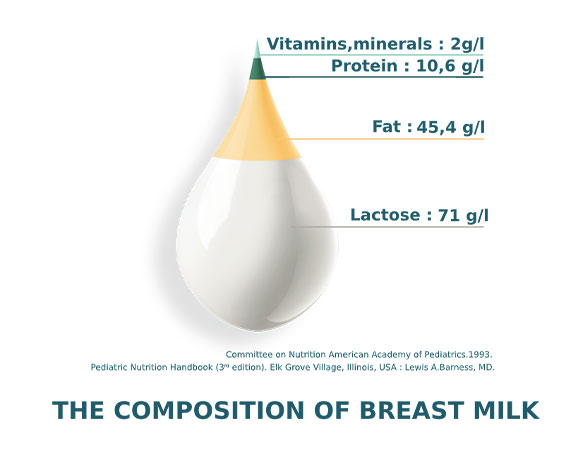 The importance of proteins in breast milk
Breast milk contains numerous proteins with multiple actions. In particular, they play a role in bone, muscle and brain development (9).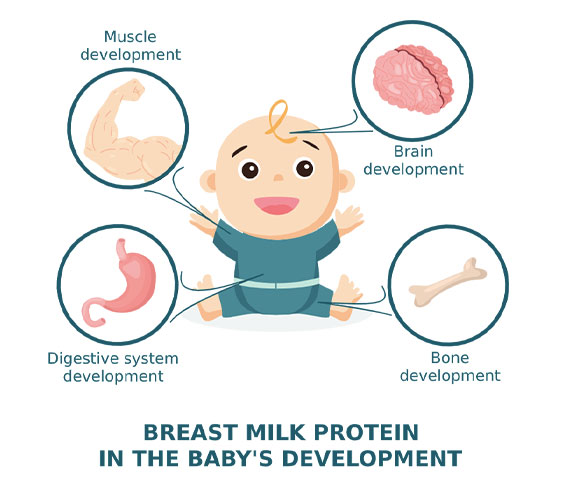 So breast milk supplies just the right amount of protein, which adjusts to each stage of your baby's development. One of these proteins is lactoferrin.

 

Lactoferrin, a remarkable protein
The fascinating properties of lactoferrin have been the subject of various scientific studies and are recognised by numerous healthcare professionals. 
- Lactoferrin naturally helps prevent infections
Lactoferrin is naturally present in breast milk and is transmitted from mother to baby during breastfeeding. It is the second most important protein in breast milk in terms of quantity. Lactoferrin is an invaluable protein with numerous benefits. For example, it has antimicrobial properties (1,3) (anti-viral and antibacterial). Lactoferrin also helps prevent infections in young babies: it is associated with a reduced risk of respiratory infection*, for instance (4,5). 
- Lactoferrin plays a role in normal digestive system development in babies

Healthy development of the digestive system is essential since painful digestive problems, such as regurgitation, reflux and colic, can be common in babies (7,8). 
Lactoferrin acts on the gastrointestinal tract in a number of ways. The protein contributes to growth and maturation of the intestines in young babies (1). In addition, studies have shown that lactoferrin also contributes to the healthy development of the baby's gut flora (6).  
These various properties of lactoferrin - such as its antimicrobial properties, the reduced risk of respiratory infections and its role in the health development of the baby's digestive system and gut flora - suggest that the presence of lactoferrin in breast milk helps protect against external threats and helps build good immunity in babies.
(1) A. Lemoine – Réalités Pédiatriques- June 2017
(2) Source WHO: https://www.who.int/topics/breastfeeding 
(3) A. Bocquet – Le Pédiatre - February 2020
(4) Ke Chen et al. Nutrition 2016
(5) King J C et al. Journal of Pediatric Gastroenterology and Nutrition 20076
(6) Mastromarino P. et al., Biometals 2014
(7) Lönnerdal B, et al. J Pediatr Gastroenterol Nutr. 2011 
(8) Jiang R, et al. J Pediatr Gastroenterol Nutr. 2014
(9) ANC Martin, Afssa 2001
https://www.anses.fr/fr/content/les-prot%C3%A9ines
https://www.who.int/features/qa/21/fr/
*lower respiratory tract infections