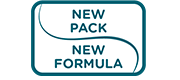 - Thickened formula
- Format: 800g
- Stage 2: From 6 to 12 months
- 100% French skimmed milk

Combination of corn and carob starch

Made in France
Specificities of our formulas

For over 35 years, we have been designing infant formulas at the cutting edge of nutritional research to be as close as possible to breast milk. Modilac Expert Anti-Regurgitation 2 is indicated in case of regurgitation and meets the nutritional needs of infants and young children from 6 months to 36 months.

 

  Combines the action of two natural thickeners, carob seed flour and maize starch, to thicken the bolus while maintaining normal transit*.

 

 Made in France

 

 

*Bae, SH. ""Diets for constipation"" Pediatr Gastroenterol Hepatol Nutr 2014 December 17(4):203-208. Retrieve July 31, 2019 (see here).*Boquet, 2015, AMICAR observational study "Regurgitation management by a double thickening formula".


** In accordance with regulations
How to prepare the bottle ?

Carefully clean and sterilise the bottle, cap and teat. Pour the required amount of water into the bottle. Use bottled water with a low mineral content or boiled and cooled tap water. To make up the formula, the water must be lukewarm (around 40-45°C) before the powder is added.

Fill the measuring scoop supplied in the tin with powder, then level the scoop on the edge of the tin specially designed for this purpose.

Add the corresponding number of level scoopfuls of powder to the water, respecting the following proportion: 1 scoopful in 30 ml of water.

Put the cap on the bottle and to help the formula dissolve roll the bottle between your hands and then shake vigorously. Before giving baby the bottle, check the temperature of the formula by pouring a few drops onto your wrist.
Our ingredients

Skimmed milk, demineralised whey proteins (milk), vegetable oils (palm, coconut, rapeseed, sunflower), lactose, corn starch 5,6%, thickener (locust bean gum 3%), emulsifier (soya lecithin), calcium phosphate, calcium carbonate, magnesium chloride, choline bitartrate, sodium chloride, vitamin C, potassium chloride, potassium phosphate, taurine, ferrous sulphate, riboflavin, vitamin E, inositol,  L-carnitine, zinc sulfate, antioxidants (tocopherol-rich extract, L-ascorbyl palmitate), potassium iodide, calcium hydroxide, vitamin A, nicotinamide, sodium citrate, vitamin D, calcium pantothenate, vitamin K, biotin, sodium selenite, cupric sulfate, vitamin B6, thiamin, manganese sulfate, folic acid, vitamin B12.
Detailed nutritional values of

Modilac Expert Anti-Regurgitations 2

Average analysis

Unit

Per 100g

Per 100ml

-- ENERGY --

kcal/kJ

485/2033

68/286

Linoleic acid

mg

3100

434

α-linolenic acid

mg

310

43

Ac. docosahexaénoïque (DHA)

mg

121

17

-- CARBOHYDRATES --

g

57

8

-- PROTEINS --

g

13,5

1,9

Pantothenic acid

mg

3,2

0,45

Vitamin E (αTE)

mg

10

1,4

Reconstitution rate:

14 %
Vous aimerez peut-être aussi…